Val, bestselling author of The Edinburgh Crime Mysteries is just the sort of person a debut author needs to meet: with a great sense of humour, oodles of common sense and a string of novels under her belt, Val is a generous and supportive member of the writing community. Follow her on Twitter, and you will see what I mean!

It is with the greatest pleasure that I introduce her blog tour for her novel "Hunter's Chase", today published by SpellBound Books and available on Amazon.

Congratulations and happy publication day, Val!
Hunter's Chase
Hunter by name – Hunter by nature: DI Hunter Wilson will not rest until Edinburgh is safe.
Detective Inspector Hunter Wilson knows there is a new supply of cocaine flooding his city, and he needs to find the source, but his attention is transferred to murder when a corpse is discovered in the grounds of a golf course.
Shortly after the post-mortem, Hunter witnesses a second murder, but that is not the end of the slaughter. With a young woman's life also hanging in the balance, the last thing Hunter needs is a new man on his team: Detective Constable Tim Myerscough, the son of his nemesis, the former Chief Constable Sir Peter Myerscough.
Hunter's perseverance and patience are put to the test time after time in this first novel in the DI Wilson Crime series.
DI Hunter Wilson refreshingly avoids the stereotypes which have formed around fictional police officers. He doesn't drive a ridiculous car, he quite likes people and he works smoothly with a large team that is chock-full of personalities. This book is as much about the team as it is about Hunter himself. Edinburgh also has an important role, a city clearly loved by author and characters alike.

I'm not going to talk about plot at all, except to assure you that it is a deeply satisfying one, but I shall concentrate on some of the characters that particularly caught my attention and really engage the emotions. For me, what stole the show was the opposition of the couples Sophie and Tim – confident, clever, privileged, and easily hurt – and Frankie and Annie – heart-breakingly young and yet prepared to take responsibility for their actions. It is this focus on characters which could so easily have been pushed to the side that made "Hunter's Chase" for me.

You'll find a lot of dry humour in "Hunter's Chase" – the old lady who takes advantage of being a witness to an attack to chew DI Wilson's ear about chewing gum was a favourite. In addition, you will meet people you want to win in life and finish with a sense that everyone (or nearly everyone) is redeemable. This is one of the most important things a detective thriller can do for its readers, and the appropriate sense of right prevailing threads through the novel without ever getting moralistic.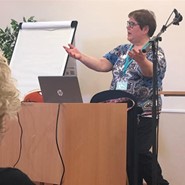 Val Penny is an American author living in SW Scotland. She has two adult daughters of whom she is justly proud and lives with her husband and two cats. She has a Law degree from Edinburgh University and her MSc from Napier University. She has had many jobs including hairdresser, waitress, banker, azalea farmer and lecturer. However, she has not yet achieved either of her childhood dreams of being a ballet dancer or owning a candy store. Until those dreams come true, she has turned her hand to writing poetry, short stories and novels.

Val's website can be found at: https://www.valpenny.com/
She can also be found Twitter, Pinterest, Facebook and Instagram.